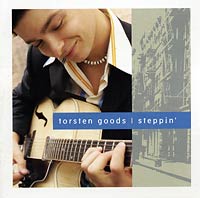 torsten goods
steppin'
J4E 4767

Torsten Goods (voc, g), Olaf Polziehn (p), Jan Miserre (p),
Martin Gjakonovski (b), Marco Kühnl (b), Dejan Terzic (dr),
Christoph Huber (dr) Tony Lakatos (ts), Lutz Häfner (ts),
Johannes Enders (ts), Flo Leuthold (perc).

Recorded in May 2004 by Christoph Beyerlein at Separate Sound Studios, Nuremberg.
Additional recordings by Lutz Häfner at Mo`Swing Studios, Nuremberg.
Mixed and mastered in August 2004 by Christoph Beyerlein at
Separate Sound Studios, Nuremberg, Germany.
He learned with Mike Stern, John Scofield and Bireli Lagrene, he plays with Tony Lakatos, Johannes Enders, Olaf Polziehn, Martin Gjakonovski and Dejan Terzic: the young guitarist and singer Torsten Goods makes a score with his new CD, which has all chances to become very successful.

His quick and easy guitar runs are a tribute to senior stars like George Benson, whose groovy sounds advanced to the cult of Soul Jazz in the sixties and seventies. Torsten Goods accompanies himself - his voice sounds expressive and a little smoky. His patners an this CD are the "Who´s Who" of the German jazz scene.

Jazz classics like "Cry Me A River", "Lover" of Rodgers & Hart, "Bye, Bye Blues" and his own composition "Steppein´", which gave the CD its name, re member of a good classic jazz record, but the 23 years old Torsten Goods adds youthful freshness and a very individual ambitious note to it.

As scholarship holder Torsten Goods studied at the renowned New School University in New York. There he received much appreciation for his concerts. He also played in China and in the USA, among others with stars like Dr. Lonnie Smith, Seleno Clark and the legend Les Paul. The Just Jazz Guitar Magazine described him as "emerging new force in the jazz scene today".