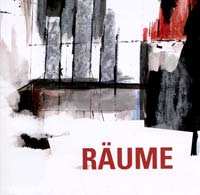 Oliver Leicht [Acht.]
RAEUME



J4E 4794 VÖ: 24.04.2009


Oliver Leicht (cl, as), Norbert Scholly (g), Ingmar Heller (b), Jens Düppe (dr),
Christine Chapman (fr-h), Christian Jaksjo (euphonium), Klaus Heidenreich (tb),
Ed Partyka (b-tb, tu)

Oliver Leicht (cl, as), Norbert Scholly (g), Ingmar Heller (b), Jens Düppe (dr),
Christine Chapman (fr-h), Christian Jaksjo (euphonium), Klaus Heidenreich (tb),
Ed Partyka (b-tb, tu)


Constructing rooms with music, creating various atmospheres for the listener, drawing and describing them with unlimited imagination – that is was the ensemble [Acht.] does. With its second release the band leader Oliver Leicht set the ground of such an acoustic building with eight compositions and arrangements. He defines the base, the forms, the sizes and colours, whereas the room is finally designed and redefined by the ensemble´s work, each time newly made by the soloists´ improvisations. The style isn´t limited at all. So you find loans from the electronic music, from the chamber music as well as heavier sounds and grooves from Jazz and Pop.

The unusaul combination jazz quartet plus deep brass section is just a wonderful adventure – it is completed and finely chased by the musicians´ personal interpretations. Klaus Heidenreich (tb), Christian Jaksjo (euphonium), Norbert Scholly (g) and Ingmar Heller (b) are, together with Oliver Leicht, the solo players. Jens
Düppe on the drums is anything but only a sideman. Many colours and atmospheres arise decisively from his play. Together with Ingmar Heller he not only lays the foundation for all soloists but also gives the inspiration for manifold creations.

Christine Chapman (fr-h) and Ed Partyka (b-tb, tu) do the same in a figurative sense. They round off the warm brass sound from both sides, causing highly intense emotions with their ability to breathe life into each note. Especially the complex line-up of the the ensemble makes that [Acht.] is able to change fluently between combo and chamber music parts and a nearly orchestral richness of tone.

A new experience of sound spaces!